Happy New Year! We just updated our goat Herd Book and Kidding Schedule for the 2018-2019 breeding and kidding season. Take a peek at the page to see an updated list of all of our Nigerian dwarf dairy goats and their accomplishments, plus planned breedings, and kid reservation availability. And yes- we still have reservations available for kids sired by our buck, Sugar Moon V High Roller *B. He is a full brother to SG Sugar Moon V Zuzanna 4*M, who was second in the 2017 ADGA Performance Breed Leaders Top 10 List. He has three daughters with Superior Genetics awards, and Linus has consistently produced daughters who milk 800-1,000lbs as first fresheners. So far he has produced 3 ADGA Elite daughters, and he had one granddaughter in the 99th percentile.
At Tiny Hill Farm we do things a bit differently than many other farms. Here's a quick overview of our management style. First, our adult goats are exceptionally healthy. We have a big barn that is always clean and never crowded. Our goats are kept up to date with vaccination, worming, external parasite prevention, and general health maintenance. We test our entire herd for CL, CAE, and Johne's every single year. We test for TB and brucellosis every three years. Our whole herd test results are posted on our website right here. We practice strict biosecurity, and our herd benefits from a total lack of any contagious respiratory disease. All of our older and retired goats are kept as pets.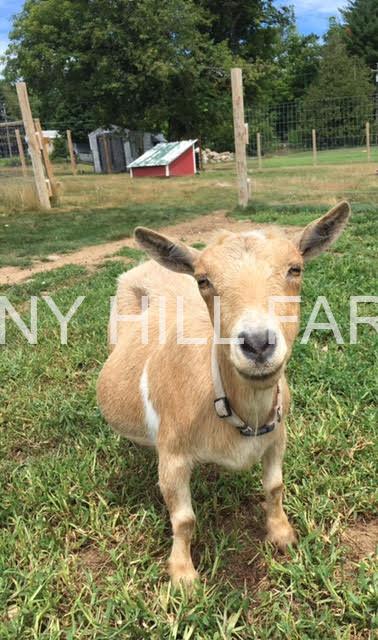 Our does are ultrasounded to confirm pregnancy and to get an approximate kid count. Does are always given updated CD+T vaccines, copper boluses, and BOSE approximately a month before their due dates. We employ the use of a barn cam to keep an eye on heavily pregnant does. All does are brought inside our heated mudroom or basement to have their kids. This ensures that the kids aren't chilled and they get the best possible start to life. After kids are born (and their navels are dipped in iodine-twice), they are fitted in a custom made and monogrammed drying coat to ensure that they are dry and warm as fast as possible.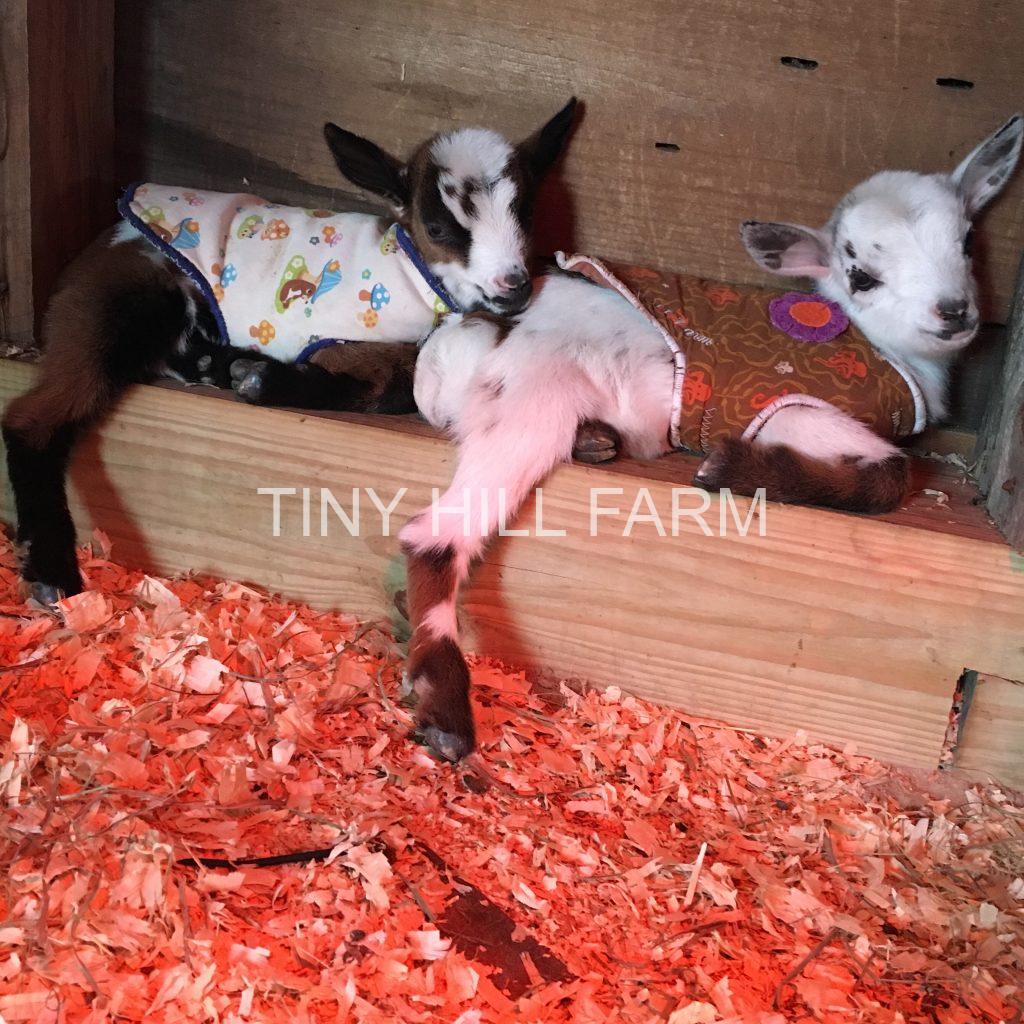 After making sure that all newborn kids get plenty of colostrum, we raise most of our kids as bottle babies in our house for the first week or two. This very labor intensive style of management insures that we have friendly, fast growing kids with strong immune systems. At Tiny Hill Farm we sell the majority of our kids as bottle babies at 2-3 weeks old. Our kids go to their new homes well started on a bottle (and getting a bottle twice a day at that point), they are disbudded by a very skilled veterinarian, up to date on CD+T vaccination and BOSE, treated for internal and external parasites, tattooed, and are very friendly, adaptable, and healthy. Tiny Hill Farm kids go home with a whole packet of kid care information, a feeding, worming, and vaccination schedule, a pedigree, and any extra supplies they might need in their new homes. Registered kids also go home with a completed ADGA registration application, and information on how to register them. Wethers are castrated right before going to their new homes. Most importantly, we are always available to give help and advice 24/7 for the entire lifetime of your goats. We also offer "Goat Care Courses" and other goat related classes throughout the year.
We very proud of our goats and their accomplishments. We are also very grateful to the wonderful people who have already added Tiny Hill Farm goats to their farms and lives. We often tell our new goat customers that your relationship with Tiny Hill Farm doesn't end with the purchase of one of our goats – it begins!
If you might be interested in adding a Tiny Hill Farm Nigerian dwarf goat into your life, now is the time to check out our Herd Book and Kidding Schedule and to contact us with any questions. It is also time to get a deposit in to get on our kid reservation list. We still have plenty of spots left open and we look forward to hearing from you!