The following goats are listed here as references for folks looking for more information about goats we have bred or owned. We either no longer own these goats, they are retired, or have passed away. Thanks so much for reading. You can see our current herd list here.
ARMCH Fairlea Flower Power 4*D 4*M +EEE88 –PowPow (Stonewall's Apocalypse Now X ARMCH Fairlea Fleur 3*D "E' AR1950). DOB 4/10/04 Gold with random white and frosting. PowPow was happily retired here from many years. Sadly, she passed away at nearly 15 years old.
SG Kids Corral LB Krystal Blue 1*M AR 2307 VEEE90 – Connie Marble(MCH Woodhaven Farms Luzifer Blue X Kids Corral LL Ember) DOB 4/21/06 Black with moon spots and blue eyes. This doe earned an appraisal score of 90 as a 10 year old 10th freshener! Connie is happily retired and dearly loved.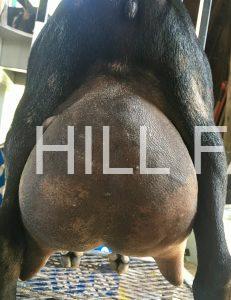 Old Mountain Farm Jil Michele 4*M VEVV87 – Jill (SG Old Mountain Farm Black Tulip ++*B *S X Willow Moon Indian Summer 3*M 3*D AR 2017) DOB 2/27/10 Black and white pinto with moon spots. Jill has the same sire as the dam of the 2017 ADGA National Show Reserve Grand Champion. Jill is happily retired and dearly loved.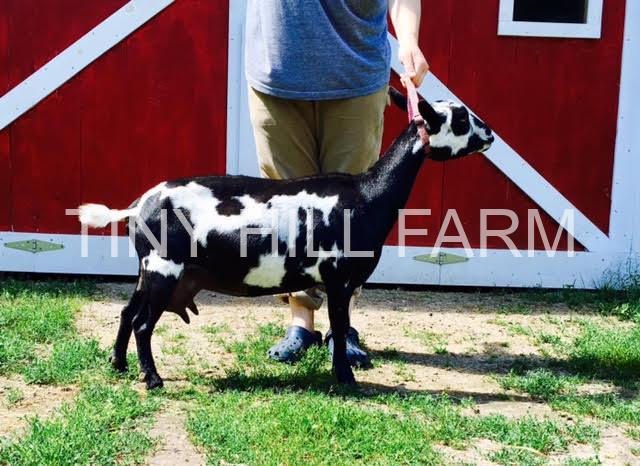 SG Tiny Hill Farm Aurum 4*M – Aurum (Sugar Moon V High Roller*B X Sugar Moon BL April Showers 3*M) DOB 4/3/16. Gold with small amount of random white. Aurum produced 904lbs of milk over her 277 day first freshening lactation. Her 305 day lactation estimate for 2018 is 1,379 lbs of milk as a second freshener. Aurum made ADGA's 2018 Elite Doe list. Aurum's very stale 2018 linear appraisal score was VEVV88, with an E in rump. Aurum has been sold to On Golden Farm.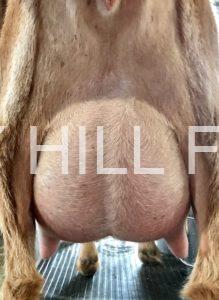 Tiny Hill Farm PowPow Powerwheels! 5*M – MiniPow (Old Mountain Farm PW Penduncle X ARMCH Fairlea Flower Power 4*D 1*M) DOB 5/11/16 Gold with random white and frosted ears and nose. Our treasured PowPow baby now lives at New Moon Farm.