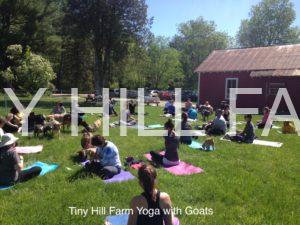 THANK YOU to all of the wonderful folks who joined us for our Yoga with Goats classes on Friday and Saturday. We had a fabulous time and so appreciate everyone who took time (and sometimes drove very far) to be a part of such an amazing experience. Please feel free to share any photos you might have taken, and let us know if you need any Tiny Hill Farm teeshirts, tank tops, or yoga mats and we can ship you one. We also found a cute purple water bottle that someone is missing from the Friday class. Contact us and we'll get it back to you ASAP. Thanks again and namaaaaaste!
Here's a list of our upcoming classes:
Friday June 23rd at 6pm – FULL
Saturday June 24th at 9am – FULL
Saturday June 24th at 5pm – FULL
Friday July 14th at 6pm – Spaces available/optional BYOB happy hour after class
Saturday July 15th at 9am – Spaces available
Friday August 4th at 6pm – Spaces available
Saturday August 5th at 9am – Spaces available
We'll also be doing a "kids with kids" child's class in August.
Contact us with any questions or if you would like to sign up. No yoga experience is necessary, but a love of adorable goats is mandatory! Classes last one hour and are $20 per person. Please contact us by calling/texting (603)817-0081 or email tiny hill farm (at) gmail dot com to register or with any questions. Thanks again to all of the wonderful people who came to class! Namaste!