We have two lovely first fresheners available for sale to milking homes. Both are great quality does with awesome pedigrees and lots of potential. Selling only to keep our herd numbers down. Both does are in milk and freshened less than a month ago. Here's more info:
The chamoisee doe with moonspots and blue eyes is Tiny Hill Farm Bunny Lebowski – Bunny (TheTinyHillFarm's Karl Hungus *B X Tiny Hill Farm Taffy D 2*M) DOB 4/16/16. Bunny's granddam appraised at VEEE90 as a 10 year old 10th freshener. Her dam produced an average of 5.9lbs of milk per day when she was on milk test last year. Asking $450. Tested negative for CL/CAE/Johne's on 11/14/17. BUNNY IS SOLD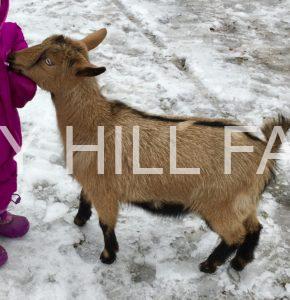 The cute gold and white doe with moonspots is Birch Ridge Farm CN Aria (Kids Corral PT Chernoble X Sugar Moon V Capriccio) DOB 3/18/07. Aria has a fantastic pedigree, a lovely udder, and a very sweet personality. Asking $450. Tested negative for CL/CAE/Johne's on 3/7/18. ARIA IS STILL AVAILABLE.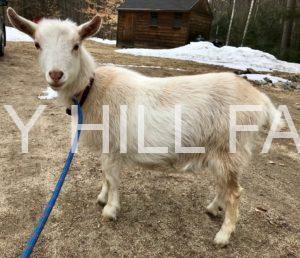 Both does are ready to go now. They are being milked twice a day and have been started on milk test. They are well trained to the milkstand and can be hand or machine milked. Please email tiny hill farm (at) gmail dot com or call/text (603)817-0081 for more info and udder pictures. Thanks!