Our Tiny Hill Farm Yoga with Goats and Goat Care Classes are filling up! Here's more information about both in case you might be interested: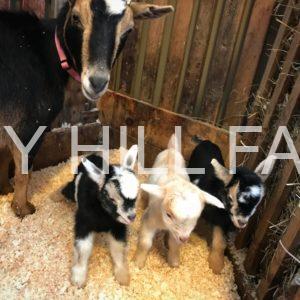 Yoga with Goats:
Tiny Hill Farm will be hosting more "Yoga with Goats" classes here on our farm in Milton Mills, NH! Join us at our beautiful farm for an hour of fun, relaxation, and goats! Our large herd of playful Nigerian dwarf moms and babies will be joining us outdoors on our peaceful 5 acre field. No yoga experience is necessary, but a love of adorable goats is mandatory! Classes are $20.
2018 Yoga With Goats Class Schedule:
Friday April 27th at 6pm
Saturday April 28th at 9am
Saturday April 28th at 10:30 "Kids with Kids" Children's Class. Suggested ages 10 and under. Includes a yoga class (no participation required), hands on farm activities, and a craft. $20 per child.
Friday May 11th at 6pm
Saturday May 12th at 9am
Saturday May 12th at 10:30 "Kids with Kids" Children's class
Friday June 15th at 6pm
Saturday June 16th at 9am
Saturday June 16th at 10:30 "Kids with Kids" Children's class
Have a large group or want a more one on one yoga with goats experience? We offer private yoga classes with very flexible scheduling. Private classes are one hour long and are $100 for 5 or fewer people, or $20 per person for groups larger than 5 people. Reservations and a deposit are required.
Our class instructor is Janell Mullen. Janell has been practicing yoga since she was competitive runner in high school. She found much peace and comfort in slowing down and stretching out and continues to use its teachings and weave its practice into her daily life.
Yoga with goats classes are rain or shine. If it rains, classes will be held in our beautifully restored antique barn, otherwise they will be outside in our peaceful five acre field. You are welcome to come a bit early or stay a bit late if you would like extra time with the goats.
We'll take payment via cash at the beginning of class. No need to pay ahead of time. Class is $20. Please bring a yoga mat (we'll have extras if needed) and anything you need to be comfortable outside. We don't require anyone to do any yoga if they don't want. You are welcome to just sit back and enjoy the experience!
Our "Kids With Kids" Children's Class are a super fun event including a children's yoga class, hands on farm activities, and a craft. Kids will get to do some fun goat inspired yoga poses, bottle feed baby goats, try their hand a miking a goat, visit with the goats and our adorable silkie chickens, and do a goat related craft. No participation is required and children can choose what they would like to do or not do. Suggested age 10 and under. $20 per child. Class lasts about an hour. Please either email us at tiny hill farm (at) gmail . com or call/text (603)817-0081 to reserve a spot.
Want to join in on the fun? Contact us to reserve a spot in one of our classes, or email us at tiny hill farm (at) gmail . com or call/text (603)817-0081 to reserve a spot.
Thanks so much and we look for to having you join us! Namaaaaaste!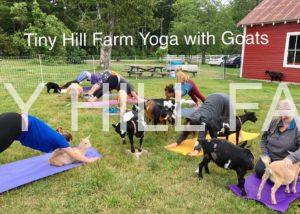 Here is more information on our Goat Care Classes:
Tiny Hill Farm Goat Care Classes
Tiny Hill Farm will be hosting two informative "Goat Care Courses" for new and beginning goat farmers. Classes will be on Saturday May 5th 2018 at Tiny Hill Farm in Milton Mills, NH.
We will host a "Goat Beginner Basics" course in the morning from 9am-noon. We'll cover topics such as picking a breed and breeder, nutrition, housing, equipment, biosecurity, and goat preventative healthcare. We'll also include a hoof trimming and a milking demonstration. This class is geared for folks who are just starting to get involved in the magical world of goat ownership.
Later that day we will hold a "Goat Breeder Basics" course for beginning or aspiring goat breeders. This course will take place from 1pm-4pm in the afternoon. Some of the topics we will cover will be goat breeding basics, how to read a pedigree, choosing a buck, udder and conformation evaluation, goat pregnancy and birth, kid rearing and management, and milking systems and milk safety. This class is geared for people who are interested or just starting out with goat breeding and goat milk production.
We'll include a farm tour in both classes, as well as lots of hands on time with our herd of Nigerian dwarf dairy goats. Classes will be held on our farm on Saturday May 5th. "Goat Beginner Basics" is from 9am-noon and "Goat Breeder Basics" will be from 1pm-4pm. Each class is $45 per person, or $80 per person if you chose to take both classes. We'll take a lunch break from noon-1pm with the folks who are take both morning and afternoon classes. Please contact us for more information or if you would like to sign up for our goat classes. You can reach us by calling or texting (603)817-0081 or emailing tinyhillfarm (at ) gmail.com.
More of a poultry person than a goat person? We're also planning on hosting a "Poultry Care and Breeding" class this spring. Please contact us if you are interested! Thanks so much for reading!