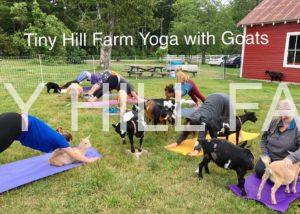 Thanks to all of the wonderful folks who joined us for our Yoga with Goats classes this past weekend! Here are a few photos. We still have one more weekend of classes left, and due to popular demand, we've added another class. Here's our class schedule:
Friday August 4th at 4pm – "Kids with Kids" children's class – Spaces available
Friday August 4th at 6pm – Spaces available
Saturday August 5th at 9am – Spaces available
Contact us with any questions, if you would like any merchandise, or if you would like to sign up for any classes. No yoga experience is necessary, but a love of adorable goats is mandatory! Classes last one hour and are $20 per person. Our children's class is 1/2 an hour and is $20 per child. Please contact us by calling/texting (603)817-0081 or email tiny hill farm (at) gmail.com to register or with any questions. We also have tank tops, tee shirts, yoga pants, and yoga mats available for sale. Everything is $20 and shipping is FREE! Namaaaaste!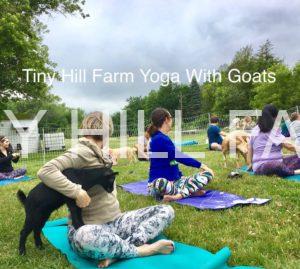 We also still have several young standard size pullets (pullets are young hens) ready to go to their new flocks. The breeds we have available are white crested black Polish, Dominiques, Barred Rocks, buff Cochins, and light Brahmas. All are out on pasture and should be laying in just a month or two. They are $20 each. We also have a few males available for no charge with the purchase of a female. Our flock is NPIP certified.
We also have a few Nigerian dwarf dairy goats available for sale. Please contact us for details. Thank you for reading!