We're deeply saddened to report that we lost our Myles suddenly and expectantly to a very rare infection called pyothorax. AKC/UKC Ch. Park Ave's What Kinda Dog's That? was his registered name. He was a phenomenal show dog and a great friend.
At three months old he went to his first puppy match, where he won Best Puppy in Show. He finished his AKC championship in two show weekends, with three five point majors, at six months of age.  He won his UKC championship in three shows with three first placements in the Scenthound Group. He went to Westminster twice, with placements both times. He won an Award of Merit in 2008, and a BOS in 2011.  He was ranked as one of the top five English foxhounds in the country, and he had a short stint as the #1 English foxhound in the country.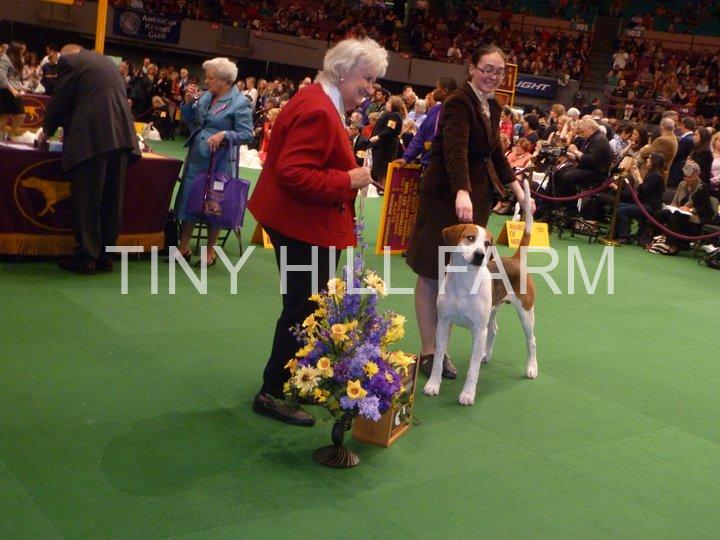 I'm honored to have been able to show him to all of his accomplishments myself, as his breeder, owner, and handler. But, Myles wasn't just a show dog, he was a pet and my dear friend. He was the only dog I know who could open the toaster oven, dishwasher, kitchen cabinets, and the oven. He reveled in stealing my breakfast toast right out of the toaster. He would collapse into dramatic fits of jealously whenever he saw me spend anytime with the baby goats, and he was very patient when wearing his assortment of costumes, including "his" wig. He loved going to agility classes, where he enjoyed entertaining me with his hilarious interpretation of what he though dog agility was all about.
He was a once in a lifetime dog, and even though his life was short, we were honored and blessed to have spent seven years with him. We'll miss you, My.