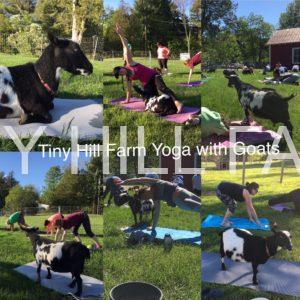 We are very excited to announce that Tiny Hill Farm will be hosting "Yoga with Goats" classes here on our farm in Milton Mills, NH! Join us at our beautiful farm for an hour of fun, relaxation, and goats! Our large herd of playful Nigerian dwarf moms and babies will be joining us outdoors on our peaceful 5 acre field. No yoga experience is necessary, but a love of adorable goats is mandatory! Classes are $20.
Have a large group or want a more one on one yoga with goats experience? We offer private yoga classes with very flexible scheduling. Private classes are one hour long and are $100 for 5 or fewer people, or $20 per person for groups larger than 5 people. Reservations and a deposit are required.
Yoga with goats classes are rain or shine. If it rains, classes will be held in our beautifully restored antique barn, otherwise they will be outside in our peaceful five acre field. You are welcome to come a bit early or stay a bit late if you would like extra time with the goats.
We'll take payment via cash at the beginning of class. No need to pay ahead of time. Class is $20. Please bring a yoga mat (we'll have extras if needed) and anything you need to be comfortable outside. We don't require anyone to do any yoga if they don't want. You are welcome to just sit back and enjoy the experience!
Our "Kids With Kids" Children's Class are a super fun event including a children's yoga class, hands on farm activities, and a craft. Kids will get to do some fun goat inspired yoga poses, bottle feed baby goats, try their hand a miking a goat, visit with the goats and our adorable silkie chickens, and do a goat related craft. No participation is required and children can choose what they would like to do or not do. Suggested age 10 and under. $20 per child. Class lasts about an hour. Please either email us at tiny hill farm (at) gmail . com or call/text (603)817-0081 to reserve a spot.
Want to join in on the fun? Contact us to reserve a spot in one of our classes, or email us at tiny hill farm (at) gmail . com or call/text (603)817-0081 to reserve a spot.
Thanks so much and we look for to having you join us! Namaaaaaste!